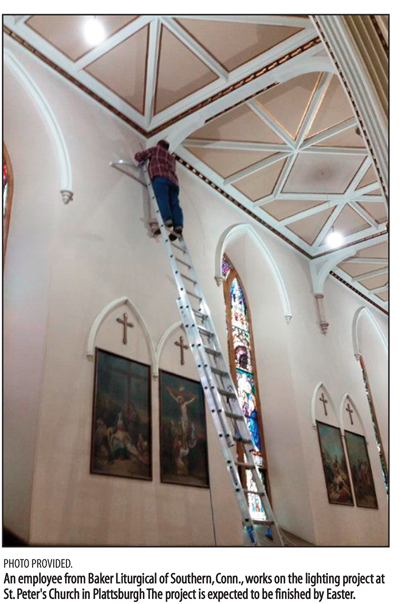 17 Feb

Let There be Light

North County Catholic Newspaper – February 17, 2016
By:  Alice Scott

St. Peter's Environmental Stewardship Ministry Plattsburgh – St. Peter's Church is coming into the 21st century by updating the electrical lighting system
in the main church and chapel.  The present system needs to be brought up to code and doesn't accommodate newer lighting technology such as dimmers, timers and LED bulbs.When the parish received a large annuity from Mary Busuttil, a parishioner who died in 2014, the Parish Council and Finance Council approved the lighting project and made it a priority.
Recently the company AES (Architecture, Engineering and Land Surveying Northeast) of Plattsburgh conducted the preliminary study to determine what changes would be needed.
Baker Liturgical Art of Southington, Connecticut, church renovation and restoration specialists, has been hired to complete the project.
The company has overseen renovations in other diocesan churches, including Blessed John XXIII Newman Center in Plattsburgh, St. Mary's Cathedral in Ogdensburg, St. Anthony's and Holy Family Churches in Watertown, St. Agnes Church in Lake Placid and St. Peter's Church in Lowville.
Baker has also worked for the Cathedral of St. Ignatius Loyola in Palm Beach Gardens, Florida, and other churches in the eastern part of the country
Msgr. J Dennis Duprey, pastor of St. Peter's, called lighting in a church setting "an art." It must take safety and security into consideration, provide sufficient lighting for parishioners, and be able to artistically highlight special architectural features of the 160 year old church.
In an interview with the Plattsburgh Press-Republican, Msgr. Duprey said, "a lot of electrical work is behind the scenes. They were running new wire under the church and through the attic. It is a lot of out-of-sight work. The fixtures have been removed from the church, so there are just bulbs hanging there now.
"They're restoring the old fixtures," he said. "All the fixtures have been removed to a factory down in New Jersey where they are retrofitting them. We are buying the inside guts of it. It's amazing what they can do."
The new system features zoned programmed lighting with digital switches to light select areas, timers for automatic lighting at specific times, and dimming capacity.
An added bonus will be that St. Peter's is projected to be able to save 40% of its lighting costs, offering a significant reduction in lighting energy usage which helps promote  environmental stewardship.
The project is scheduled to be completed around Easter 2016.